Tyre safety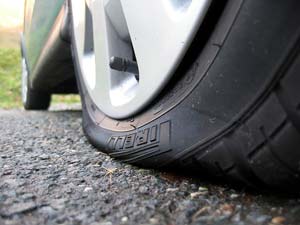 We have put together a whole section important tyre safety information. We have covered most of the important matters, please use the menu on the left to navigate to a topic of interest.


Most drivers only check their tyres once a year or before they are to travel on a long journey. Often this check is just a brief look at the side or the good old kick which usually works. Wrong ! The reality is that tyres are often neglected and only checked by garages once a year when they fail an MOT. Which always surprises them, when you tell them their tyre is cracked, has a bulge in the sidewall, worn, etc. I wonder why.
We think the reason motorist's neglect them is because of laziness or lack of know how or both. Motorists would rather check their oil and water than get on their knees and check the condition of the tyres. Despite the fact that tyres now have features like tread wear indicators, some motorists still don't have any idea of the legal limit or when it is below the legal limit.
Did you know, if your tyres are worn below 1.6mm you are breaking the law by driving on worn tyres, but also you are not insured. Below are a few other reasons why you should regularly check them.
Tyres that are worn severely affect the performance or non-performance of the vehicle. If they are worn they will not stop your car. Which could lead to serious accidents.
Tyres that are cracked or damaged could blow out and cause damage to the vehicle and more seriously an accident. Incorrect tyre pressure is important also, which as a result of under or over inflation has a knock on effect on a lot of things including tyre life, performance, fuel efficiency etc.
Now that you know the importance of checking you're tyres, what should you check for? Firstly you need to get you're self in a position so you can see them easily; yes on your hand and knees.
Check the tyres for obvious damaged cracks, tears and bulges to the sidewall both sides although the inside is difficult to do it can be done. Next you need to check the tread depth, you may need to look under the car to see it properly from side to side. Make sure you have sufficient tread depth, you can also check the tread depth with a twenty pence coin if you insert the coin in the tread. The tread should be above the inner line of the heptagon. Lastly check the tyre pressure and valves and valve caps. If you have a spare don't forget to check that.